Carrie Giunta is an editor, writer, lecturer and sound designer. She is an associate lecturer in philosophy on the MRes Art: Theory and Philosophy course at Central Saint Martins, University of the Arts London

Carrie began editing in 1995 as a sound editor and was part of the BAFTA-winning sound team on Casino Royale.
In 2013 she completed a doctorate in philosophy at Dundee University. Since then her writing's been published in teleSUR, Times Literary Supplement and Radical Philosophy, and she has co-edited the book, Nancy and Visual Culture (Edinburgh University Press, 2016).
Carrie is a member of the Society for Women in Philosophy UK and the Society for Women in Philosophy Italia, and an alumnus of the Berlinale Talent Campus (2004). She volunteers on the mentoring programme in Media Production at Bournemouth University.

Carrie supports her research through teaching (Central Saint Martins, Ravensbourne University), manuscript editing and copy-editing (Verso Books, Pluto Press). Contact for rates.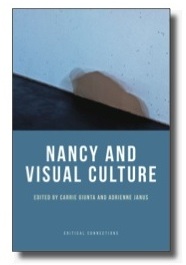 book
Carrie Giunta and Adrienne Janus (eds)

Nancy and Visual Culture Edinburgh University Press
Full list of publications »
sound editing
Film credits, see imdb.com »
Clients: Channel 4 Films, NYU Film School, Nicholson NY, Soundelux London, Twickenham Studios, Pepper Post, HBO, A&E, Arte, ZDF.
Watch a showreel »